"Author Edition" CROATIAN STILL LIFE by Sonja Pintar, Limited Edition, Original Signature: SOLD OUT!
Product Description
This is an "E.A." original signature print by renowned Croatian artist, Sonja Pintar. "E.A." stands for "Edition of Author" and what that means is that this is one of the first 10 prints made, giving the print a much higher value...
We are so proud and honored to have this beautiful print by acclaimed Croatian artist, Sonja Pintar, from Zagreb! We hope our customers will agree that this print captures the essence of Croatian life...
The print itself is 15.75 x 19, and with the border, it measures 18.75 x 22.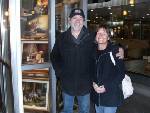 Meet Meet Croatian Artists Sonja Pintar, and her husband, Miroslav.


---
Find Similar Products by Category
---