CULTURAL IMMERSION TOUR 2023

$3450
September 5-18, 2023
($500 deposit will be applied to cost of tour. Remainder of TOUR COST can be paid in 3 installments, if you wish.
We prefer that all payments be made by check. However, we will accept payments by credit card but please note that we will charge you an additional 3% for this service.)
Price Does NOT Include Airfare. We can recommend a travel agent who can assist you with your airfare arrangements as well as with travel insurance.
(There is a $700 Single Room Supplement)
"It's Like Going on Vacation with Friends…"
*********************************
"The Soul of a People Can Be Found in its Songs,
The Heart of a People Can Be Heard in its Music"
If you would like to experience the true flavors of CROATIA with the rich addition of dance, music and song, then consider traveling with Melissa Pintar Obenauf, Co-Director and Co-Founder of ŽIVILI Dance Company, and Marija Volf Puž, Tour Guide. Our tour will begin with a Welcome Dinner in Zagreb, where we will hear the beautiful sounds of tamburitza players while dining in our beautiful hotel. Welcome to Croatia!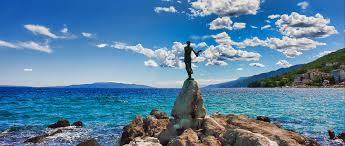 The next morning, we will travel by bus to Opatija by way of Risnjak National Park where we will walk on the beautiful Leska Nature Trail, and then be treated to the culinary delights of the Gorski Kotar region as we dine in the picturesque Risnjak Lodge. Oh, and you'll meet Melissa's family in her grandparents' village of Crni Lug, where we will be entertained by various village folklore groups! In the late afternoon, we will arrive in Opatija Riviera and check into our lovely and grand hotel!
From Opatija, we will enjoy excursions on 2 separate days to the spectacular ISTRIAN PENINSULA…which is also being referred to as "The New Tuscany." We will see the walled town of Motovun; visit the postcard-like artist's town of Grožnjan and the 2000-year-old Roman amphitheatre in Pula; enjoy an agro-touristic lunch and taste the renowned truffles of Istria; and finally, sip on cocktails in romantic Rovinj while watching the sun set…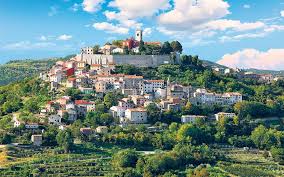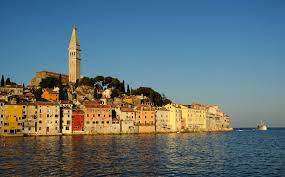 On Saturday, September 9th, we will board our beautiful PREMIUM SUPERIOR ship, MV 'MOONLIGHT,' chartered just for our group, and we will sail from island to island/port to port, for 7 days, from September 9-16. Our tour will be packed with guided tours in ports, wine tastings, traditional, fresh Mediterranean cuisine, sunbathing, swimming...and heavenly cruising amongst some of the most beautiful locations in Croatia.
Included will be fabulous folklore because that is our specialty, that is our expertise, that is our love!
Itinerary for the 7-day cruise portion of our tour will be as follows:
OPATIJA – KRK – RAB – ZADAR – KORNATI NATIONAL PARK – ŠIBENIK
KRKA WATERFALLS/PRIMOŠTEN – TROGIR – SPLIT
Following our disembarking from the ship in Split, we will go by bus to the Nikola Tesla Memorial Centre in Smiljan and then experience a picnic with tamburitza music in a nearby village; spend the night in Lika, and the next day tour the stunning, spectacular and sensational Plitvice Lakes National Park!
INCLUDED IN THE PRICE:
* Accommodation and Sumptuous Breakfast at 5-Star Hotel in Zagreb: Sept. 5 and Sept. 17
*Welcome Dinner, Traditional Croatian Cuisine, and Tambura Orchestra
* Visit Risnjak National Park and Village of Crni Lug in Gorski Kotar
*Transport by Chartered Bus from Zagreb to Opatija via Crni Lug
* Accommodation and Sumptuous Breakfasts at Gorgeous 4-Star Hotel in Opatija: Sept. 6-7-8
*Transport by Chartered Bus on Excursions from Opatija to Various Locations in the Istrian Peninsula (Motovun, Grožnjan, Pula, and Rovinj)
*Saturday-Saturday Cruise on the Adriatic, Beginning in Opatija and Ending in Split
*Accommodation in Cabins on board (PREMIUM SUPERIOR ranking) with Private Bathrooms and A/C
*Buffet Breakfast and 3-Course Lunch on Board (includes 1 glass of soda, wine, or beer with lunch)
*Guided Tours in Pula, Rovinj, Opatija, Krk, Rab, Zadar, Šibenik, Trogir, Krka Falls, and Split
*Captain's Dinner with Folklore
* 1 towel per person per half week (2 per week) for personal use (additional towels available at small fee upon request)
*Daily cabin cleaning - daily cabin servicing, fresh bed linen and towels midweek
*Visitor's Taxes, Port Fees, City Tour Guide Tips, and Entrance Fees are Included
*Wine Tasting
*Agro-Tourism Lunch/Party in Village
*FOLKLORE & Klapa Groups throughout the tour
*Additional traditional dinners in Crni Lug, Istra, Rab, and Lika.
*Swimming/Sunning in Various Locations...Beaches, Coves and/or Inlets
*2-Day Bus Tour to Plitvice Lakes and to the NEW Nikola Tesla Memorial Museum
*Overnight at Hotel in Plitvice Lakes Region in Lika: Sept. 16
*Transport to/from Hotel/Airport provided for those arriving on September 4th and 5th, and departing on September 18th
Cruise Manager on board the gorgeous MV 'Moonlight' is Marija Volf Puž
Host for the Entire Tour will be Melissa Pintar Obenauf
Price Does NOT Include Airfare. We will recommend a wonderful Croatian travel agent who can assist you with your airfare arrangements as well as with travel insurance.
September 4th (departure from USA), Tour Begins on September 5th in Zagreb with our Welcome Dinner 8 p.m.
September 18th (departure to USA from Zagreb, Croatia) after breakfast
For more information, or to sign up for this very special tour, please contact Melissa at melissa@heartofcroatia.com or @ 614.230.2634
Traveler Feedback
I had such a good time in September!!! I will cherish the memories from that trip. I totally enjoyed everything especially the food on the boat!!!! I want to go back to Croatia again. It was so wonderful. You do such a great job. And I so enjoyed you and Maria.
I'm convinced the Adriatic Sea has healing properties. My foot ailment of many years has been cured ever since I swam! Unbelievable but true, thus why I need to return! In closing....your tour is first class and so are you!
Thank you so much for the dream experience of being on your northern cruise this fall. Every day was special with Maria leading the way after all of your fine planning. Quite a feat with the travel logistics of moving 30 + friends along the way! Live entertainment, historical sights and all the delicious food we were treated to made our time with you so enjoyable.
…It will all be a memory of a lifetime for me! You were all so kind, helpful, and patient with us Senior Citizens who had more difficulty than the rest in walking ancient pathways. Croatia is so much more beautiful than I could have ever imagined and the people so kind…
We wanted to let you know how much we enjoyed our trip YOU organize. All 9 of us are still reminiscing. We totally will recommend you to friends and family. Keep up the great job you do, and we sure hope to cross paths again.
You both knew all the best places and I loved walking into a shop and saying, "I'm with Pam's and Melissa's tour," and seeing the shopkeepers' faces light up, get even better service. It was so apparent that everywhere we went, people not only thought highly of you but with genuine warmth and respect.
This tour is a nice balance of experiences in the city, country, seashore and mountains. The sights, music, meals, and company were outstanding. Melissa and Pam arranged local tour guides who made me feel so welcome, it felt like visiting family. They showed me the soul of Croatia.
I loved the combination of town tours plus boat time. Swimming in the Adriatic was heavenly, and remains, surprisingly, one of my best memories. Every tour in every town was terrific (stars for the Split, Stari Grad and Zagreb guides!), and Maria, of course, was fantastic. She had such a great, fun attitude, while being personable and still attending to important details.
...what will remain with me for a lifetime is the blend of the beauty of the culture with the beauty of Melissa's joy in sharing it.

The most perfect trip I can possibly imagine. Never before have I had a two-week experience that was so rewarding and so flawless. I truly would not change a minute of it...