"VILLAGE VIOLINIST" is a captivating work of art where the expert characterization of a musician lost entirely in his music, displays itself perfectly for all to see!
We are so proud and honored to have this artwork by acclaimed Croatian artist, Miroslav Pintar from Zagreb!
We hope our customers will agree that this print, which was originally created as a painting on glass,
expertly captures the essence of village life that is so much a part of the Croatian soul...
This print is UV-coated to protect against the ravages of sunlight. It will not fade.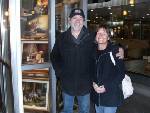 Meet Croatian Artist, Miroslav Pintar, and his wife, Sonja.


Miroslav Pintar was born in 1951 and is a "painter on glass" deeply influenced by the Hlebine (Naive) painting style, first made famous by Ivan Generalic. As a member of "Group 69," Miroslav Pintar has the enviable skill of building complex scenes with a gallery of movements and postures, dialogues and noise evident in the tranquility of this Croatian dawn. Pintar's work is a kaleidoscope of expressions and characters, with elements of caricature typical to the Naive-style paintings. Pintar is a master of artistic organization and understands how to entertain with his "actors." He was awarded the "Golden Brush" award in Croatia. His work has been displayed in galleries all over Europe and in the United States.

Pam and Melissa spotted Miroslav Pintar's work in a gallery kiosk adjacent to the Dubrovnik Hotel in downtown Zagreb. Enraptured with his work, they contacted him and immediately began a dialogue about the possibility of converting his painting on glass into the form of prints. This is only one of many in a series of high quality prints by Miroslav Pintar that Pam and Melissa believe capture the true essence of the Croatian traditions, customs, and culture.