Featured Products
Welcome to HEART OF CROATIA GIFTS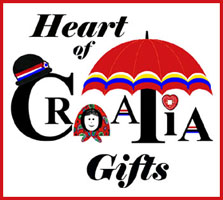 "Heart of Croatia" offers high quality gifts and products that represent our wonderful Croatian heritage and traditions. "Heart of Croatia" Gifts reflects the color, the spirit, and the soul of the Croatian people by offering shoppers the opportunity to purchase a wide selection of items that insure the continuation of our important Croatian legacy! "Heart of Croatia" sells more than gifts; it sells the Croatian story...yours, mine, and ours.






CROATIAN CALENDARS ARE HERE!

Beautiful

photographs of

beautiful

locations in Croatia! ORDER YOURS NOW!
**********************************************
GIGANTIC SOAP SALE!

Regularly $9.50; now $5.50! All Imported from Croatia! Hurry before we sell out! GREAT stocking stuffers!
****************************************

Visit the

"Heart of Croatia" Gift Store

at these Locations:

November 1-3

: CFU's ADULT TAMFEST in

Pittsburgh, PA



HEART OF CROATIA will take its "pop-up" store to Croatian events;

Heart of Croatia Gifts extends an invitation
to our customers who want something special
in the way of jewelry,
to contact Melissa at melissa@heartofcroatia.com to place a Special Order.
We can get almost any size, style, and/or type
of traditional jewelry from Croatia, usually within 2-3 weeks of placing an order.

*NOTICE TO REPEAT CUSTOMERS: If you would like to change any of your billing and/or shipping information, or perhaps your email address, please follow these instructions:
Click "Service" on upper left-hand side of screen Click "Account History" Enter your email address on file and also your password

Click on your name, which will take you to a page where you can edit any information that you wish...
To change billing information after placing an order and BEFORE check-out, at the point when you log in as a customer, CLICK the box "change billing information